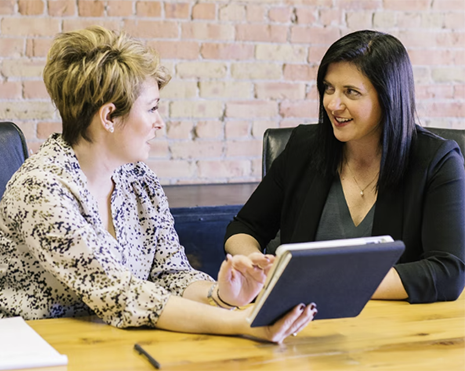 Welcome to Lifespire's Employee Referral Reward Program (ERRP)! We need good people like you to join our team, so we've put together a way for you to earn extra cash for referring talented employees to our company.
You Can Help:
Lifespire is passionate about its recruitment process – and rewarding our employees who can refer candidates for any of its open positions. Over the last 70 years our best candidates have come through existing employees. So sign up to become a referral.
Our Enhanced Employee Referral Reward Program allows existing employees to be eligible to receive bonuses of $250 after three months and $750 after one year. See the eligibility for such a bonus below.
How It Works
Fill out the Employee Referral Form
Email the Employee Referral Form and the candidate's resume to referral@lifespire.org
To be eligible for the bonus, you must be employed by the company at the time the candidate is referred and hired and completes a minimum of a three-month probationary period with a clean disciplinary record.
All bonuses are considered taxable income.
We will acknowledge your referral and inform you as soon as possible if we hire them.
If a candidate has been referred by more than one employee, the employee who first submitted the referral (based on the date and time it was received by Human Resources) is entitled to the bonus.
To be eligible, all referrals must be sent to the Human Resources Department.
If a candidate's resume has been received by the company within the last 12 months from any source, including advertising, job fairs, college recruitment activities, employment agencies, etc., the employee will not be eligible for a bonus.
How To Get A Bonus
For every successful employee referral, a Lifespire employee can earn a bonus.
This program will include an initial referral award up to $250 (based on actual work week hours – see payout table) to employees who refer an applicant who is hired and successfully completes the three-month introductory (probationary) employment period. The employee who makes the referral must be actively employed with the agency and have no disciplinary issues – written or final warnings – for at least twelve (12) months prior to submitting the employee referral application. The currently employed referrer will receive $750 for a referred candidate after the candidate successfully completes one year of service.
The referral process calls for the applicant to indicate that you referred them. In the event that one candidate is referred by more than one Lifespire employee, the actual applicant's form will govern.  
Who's Eligible To Make A Referral?
All regular full or part-time employees of Lifespire are eligible to participate in our ERRP.
Is There A Limit To The Number Of Referrals One Employee Can Make?
NO, there is no referral cap as long as the employee is still employed by Lifespire.
How Will I Know If The Candidate Is Hired?
You will receive notification from Lifespire's Recruitment Team, informing you of the candidate's eligibility and time frame of when you will be eligible to receive your referral reward.
What Positions Are Eligible For This Reward Program?
Review the current career openings at Lifespire's Careers page: www.Lifespire.org/Careers
Who's Not Eligible?
Management staff at or above the Director level
The Hiring Manager and Human Resources
Other Hiring Guidelines
Lifespire is an equal opportunity employer and does not discriminate against protected characteristics. Lifespire, in keeping with its commitment, encourages women, minorities, persons with disabilities, and military and disabled veterans to apply for all positions. Lifespire will seek to select the best candidate for the position whether the candidate has been referred or not. All information regarding the hiring decision will remain strictly confidential. Any disputes or interpretations of the program will be handled through the Human Resources Department.
Payout Based Upon Full-Time Employee's First Year of Employment

Work Hours
Per Week

SUCCESSFUL COMPLETION OF 3‑MONTH PROBATIONARY PERIOD

SUCCESSFUL COMPLETION OF ONE YEAR OF SERVICE

1.0

35.0

$250.00

$750.00

0.8

28.0

$200.00

$600.00

0.6

21.0

$150.00

$450.00

0.4

14.0

$100.00

$300.00

0.2

07.0

$ 50.00

$150.00