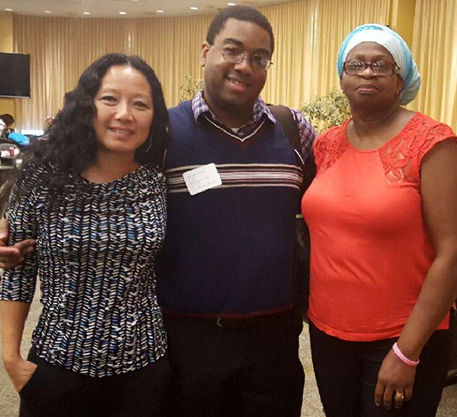 Marva Gumbs-Roberts and Maurice Hardison of Lifespire's Gercek Residence were recently honored at the NYC Direct Support Professional (DSP) Conference held at Baruch College on November 6, 2015.
Member agencies were asked to nominate two DSPs who demonstrated outstanding performance in their role of supporting people with developmental disabilities.
Marva, who has worked at Gercek for two years, was nominated for going above and beyond by visiting an individual in the hospital, shaving him, helping transport him to a new room, and staying by his bedside for hours. Maurice, who has been at Gercek for only six months, demonstrated outstanding performance by always anticipating the needs of individuals and giving them a quick smile and often a song.
"Direct Support Professionals play a vital role at Lifespire," said Lifespire Program Planning Coordinator Aurora Thomas. "Marva and Maurice have proven to be shining examples of support and the epitome of professionalism. Their recognition is well-deserved."
Marva and Maurice both received gifts, certificates, and lunch in celebration of their outstanding accomplishments.