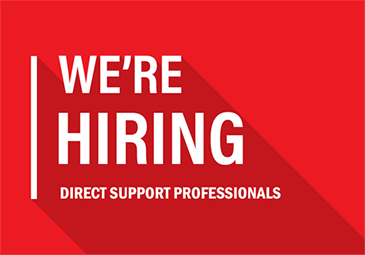 Residential Programs
The Lifespire DSPs work to assist individuals with many aspects of their daily living involving:
■ Personal hygiene
■ Shopping and budgeting
■ Community integration
Day Programs
■ Providing opportunities to obtain and learn skills in community and group settings
■ Participants work on functional skills training such as safety, communication, money management
■ Life skills such as nutrition, accessing community resources and self-advocacy
Where Passion Meets Purpose
Lifespire® takes great pride in its teams of direct support professionals who play some of the most important parts in the lives of people with developmental disabilities.
In addition to integrating individuals into communities, Lifespire's DSPs are also passionate about cultivating the capacity of each person to grow and to develop toward a greater independence and interdependence. Community activities are vital to the well-being and the growth of the people Lifespire serves.

Lifespire's DSPs are also advocates for the rights of individuals we are serving. Independence and integration ultimately become our goals and benchmarks for success.

The Lifespire direct support professionals embody the compassion and the purposeful desire to serve the people with developmental disabilities not only within their homes but also within communities. If you are seeking a career that has purpose with a passion, consider joining the Lifespire team.